Grannies Goodies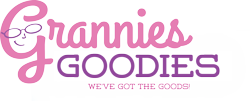 Grannies Goodies is our new venue for showcasing our higher end furniture and accessories. Grannies Goodies is at The Shoppes on Guess on 3010 Guess Road just north from Grannies Panties.
Grannies Goodies will be open for special events. Our next theme will be "Ghosts of Christmas Past" with a lot of vintage finds!
For now, please call our main number at (919) 471-0996 for additional information.
The best way to be kept abreast of events being presented by Grannies Panties and Grannies Goodies is to join our email list.